Never odd or even. A palindrome and a playful nod to the fact that while you can read the phrase both backwards and forwards, on this mural you can only read it from one specific perspective.
—
The goal of the project was to make the Commercial Street Alley more inviting as a pedestrian path, location for monthly markets, and local businesses. The client required an anamorphic design and requested a typographic element. Annabelle and I each gave each other a prompt to illustrate a design with the goal that if one design were chosen, we'd execute it together. I illustrated this design, Annabelle and I finished it as a team.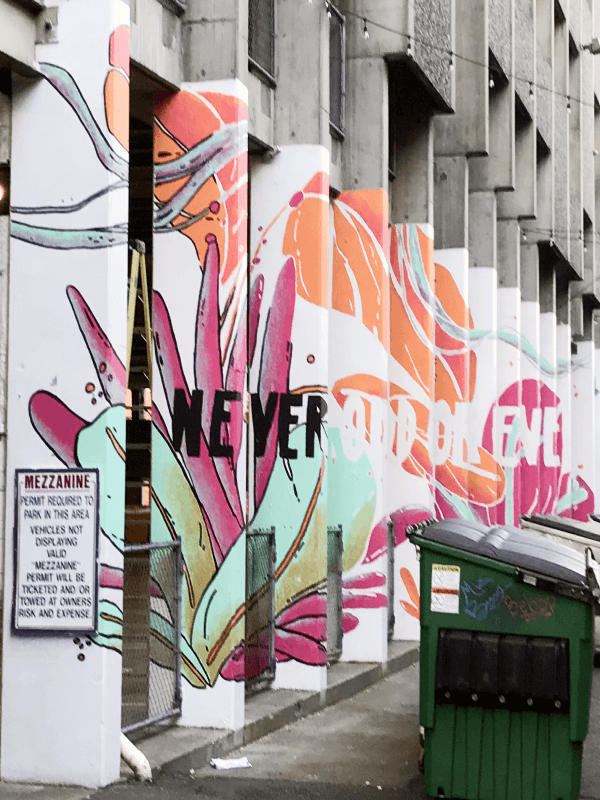 ---
The piece serves as a downtown landmark, photo backdrop for passersby, and highlights iconic features of Bellingham.

—
Annabelle created the initial illustration, I made edits to color, layout, and scale. Both of us shared the load of logistics, proposals, and installed the mural with assistance from volunteers.

---
"Artivem" is formed from the Latin words Artis (Art) and Avem (Bird). Artivem Mead Co. is an artisan meadery founded in Bellingham, WA.

—
Annabelle and I were invited to create a set of murals for Artivem in 2020. Our designs needed to be flexible; ideally a system of illustrations featuring regional flora and fauna to support the brand's connection to wildlife and community.

Annabelle created the initial system of illustrations, I arranged layouts and color palettes. We combined them into a number of small scenes to be painted as budget and time permitted. In the end, we painted a forest theme in the bathroom and perched birds to match the theme of the brand on the iconic, windowed storefront.
---
Mountain Wildflowers
2022
Bellingham, Wa
CREDITS
Collaboration
Nazar Patriy
A commission for a residential garage in Bellingham, WA. Client had moved recently moved and wanted a mountainous scene with California Poppies to tie in with her garden.
—
The client had recently moved to Bellingham from California and wanted a mountaionus scene with California poppies in the foreground. She has patches of poppies all around her yard. This project was completed in a month from design through painting with assistance from
Nazar Patriy.